The multiversal Kevin Bacon thread has mentioned a few links in comics related to tabletop rpgs, but I thought it might be worth covering them in a little more detail here.

The house magazine of TSR, publishers of Dungeons and Dragons, was Dragon Magazine, and over its lengthy run had multiple comic strips at the back, ranging from single panels to multiple pages. In Dragon#359, the final print issue (before it went to being purely digital), one of those strips was Order of the Stick, and they included cameos for many of the other ongoing strip the magazine had published:



Top panel, bottom left is Finieous Fingers, who appeared in the early issues of the run.



Above him is an armored female and a long-snouted individual being flung through the air - these are Snarf (long snout) and his girlfriend Telerie (armored woman) from Snarfquest.



Being knocked to the floor by the passing dragon, and then standing back up in the next panel are Phil (Foglio) and Dixie, from Foglio's strip What's New? with Phil and Dixie.



The smoking dragon standing next to Phil and Dixie in the second panel (and also visible, if partially obscured, in the first) is Wormy from the strip of the same name, another from the earlier part of Dragon's run.



The group riding the larger dragon are the strip's stars, the titular Order of the Stick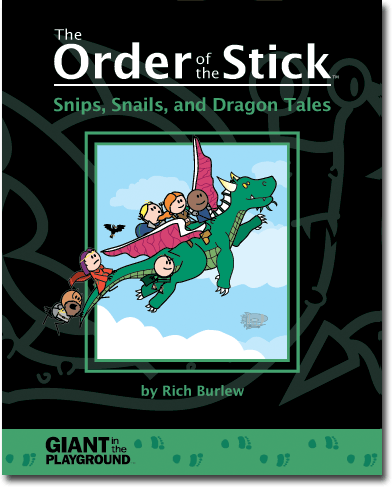 Beneath the dragon in the first panel you can see the top of the heads of The Knights of the Dinner Table



And at the right hand side of the top panel, trying to get out of the dragon's path, is Yamara